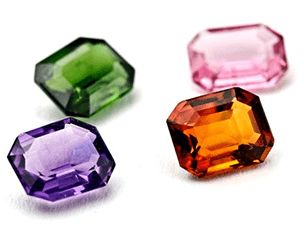 Gemstones
Gemstones are mined from the Earth's crust. These gorgeous rocks are available in every virtually imaginable color. These beautiful minerals infuse fine jewelry to give it a natural brilliance. These are categorized based on their characteristics, chemical composition, lustre, availability, color, inclusions, rarity and demand as precious or semi-precious. Their aesthetic value makes them attractive which, makes them a perfect choice for jewelry. Gemstones can be set in with a pair of earrings, a bracelet, an engagement ring, a necklace, etc. Before putting them to use, they need to be cut and polished. Moreover, since ancient times, gemstones have been recognized as birthstone for each month and are a symbol to commemorate special events and milestones. The most popular gemstones are Sapphire, Ruby, Emerald, Topaz, Tanzanite, Amethyst, Opal, Peridot, Citrine, Aquamarine, etc.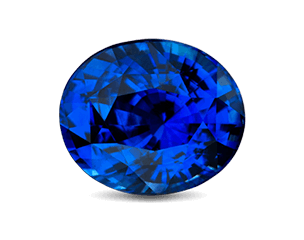 Sapphire
Renowned for its rich variation in different colors and hues, the name derives from Latin sapphirus, meaning blue, although they exist in many others colors like yellow, green, pink, black, brown, and grey. Blue is the most popular and the most associated color with sapphire. These colors are created by variations in minerals like titanium, iron, and chromium.
The highest quality sapphires are mined and found in India, Myanmar. Cambodia, Thailand, Vietnam, Madagascar, Australia, Montana, Brazil, Tanzania, and North Carolina are some countries where sapphires can be found and extracted. The Mohs' scale measures the hardness of precious gemstones. 9.00 on the Mohs scale makes them the second hardest substance on Earth after diamond.
Sapphires are a popular choice for a special occasion as it symbolizes commitment, happiness, serenity, and romance. Sapphires can be set in an engagement ring, tennis bracelet, or earrings.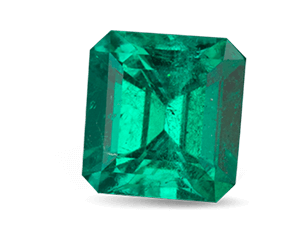 Green Emeralds
Its striking green color makes the emerald a very attractive and popular gemstone for rings and fine jewelry. Emeralds derives its name from the Greek word smaragdus, meaning green gem. It belong s to the mineral family of Beryl that also includes Aquamarines. The color of emerald comes from a small amount of naturally occurring chromium. The color, cut, clarity, and size of an emerald determine its value.
The history of emeralds suggests its mining began in Egypt as emeralds were buried with mummies to preserve the spirits of the dead. Today, the best quality emeralds are found in Columbia, Brazil, Nigeria, Tanzania, Zambia, Afghanistan, Somalia, South Africa, Spain, Switzerland, Madagascar and some parts of the United States. The Colombian mines of Muzo, Coscuez, and Chivor being the most famous, followed by Zambia.
Emeralds are the birthstone for the month of May. These beautiful stones represent love, prosperity, and overall happiness. It measures 7.5 to 8 on the Moh's Scale. The bright and vivid green color emeralds are the most valuable.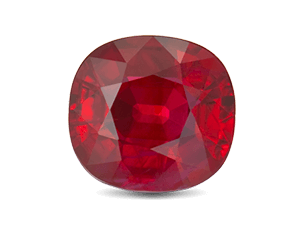 Red Rubies
Ruby is named from the Latin word Ruber, meaning red. Rubies are available in a diverse range of hues ranging from near-burgundy to pale pink. The variation in its color determines its price. The darker and brighter the stone, the more costly it will be. Ruby's price can also be determined by other considerations such as clarity, cut, and size of the ruby.
Although the stone is popularly mined in Myanmar, Sri Lanka, Tanzania, Vietnam, Mozambique, Thailand, and Kenya, various parts of the United States are some other locations of the world that produce Ruby. Some rubies are priced higher than diamonds and are the most expensive rubies. These are said to come from Burma and are called Burmese rubies.
Ruby is the birthstone for the month of July. Rubies add a striking complement when set in an engagement ring or worn in earrings or a pendant. Sapphires and Rubies are both from the corundum family. Rubies represent love and passion and is believed to provide energy and enthusiasm.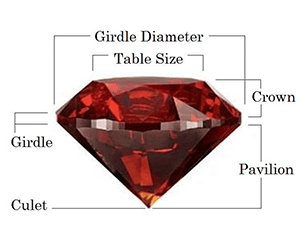 Gemstone Anatomy
The valuation of a gemstone is done using the 4C's. The 4C's are carat, cut, color, and clarity. Having a proper understanding of the 4C's is vital before buying them. The 4C's will help in examining the correct value of a gemstone.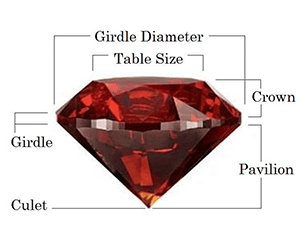 Clarity
The clarity of a gemstone refers to its internal and external flaws. The fewer inclusions it will contain, the better grading it will have, and the more valuable the colored stone will be. The clarity of a gemstone depends on its type. Very clear stones are graded- AAA clarity, and semi clean stones are of AA clarity. Some gemstones of the highest possible quality are graded- AAAA.
Tiny crystals of a mineral, small gas bubbles, minute liquid filled pockets, internal fractures or cleavages, or any other matter visible inside the stone is an inclusion. Any external factors like scratches, abrasions, chips or spots are blemishes.
The cost of a diamond is highly affected by inclusion. Some flaws in a gemstone are even visible to the eye. Gemstone grading is not as rigid as diamond grading.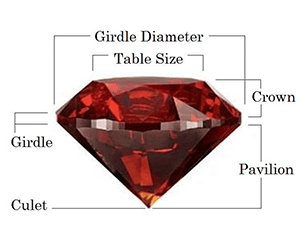 Cut
The cut is one of the most important elements in determining the value of a gemstone. The shape of a diamond is its cut. There are various gemstone shapes available like rounds, ovals, hearts, marquise, cushions, pears, emerald or octagonal cut hexagons, half-moons, triangles, and carved gems. A gemstone is graded in four levels- excellent, very good, good, and fair. An excellent cut will reflect on a gemstone's quality. The excellent cut has minimum visible inclusions and extremely deep color that increases its overall visual appearance.
Achieving l00% brilliance may not be the final goal of cutting gemstones. Several variables affect the cut of colored stone. If a gemstone is too dark, it is cut shallow, and a shallow cut provides a better color to the gemstones. Deep color can also affect the brilliance of a gemstone as light is absorbed rather than being reflected in extremely dark colored stones. When it comes to very light-coloured stones, the cut is very deep to enhance the overall color of the gemstone.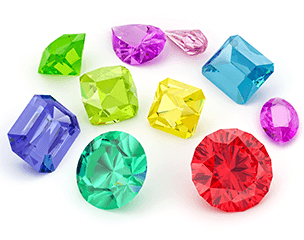 Color (Hue-tone-saturation)
Each gemstone has a unique distinguishing color. Color is a crucial factor that affects the price of a colored stone. For better analysis, it is essential to understand different color parameters. A gemstone says sapphire can have a different color intensity, shade, purity, saturation and tone. Hue, tone and saturation are three main parameters used for determining the color of a gemstone.
Hue represents the primary color of the gemstone. Identifying hues is very easy. The tone of the colored stone helps identify the intensity of the color from light to dark. Ideally, some color tones look more appealing than others as per the design and the setting of the jewelry. This can vary at times depending on a person's taste and preference.
Saturation describes the intensity of the color present, that is, how much color there is. The most expensive gemstones have the most color saturation. The price of a colored stone can fall if the saturation is low. The brighter the emerald (green), the higher the price.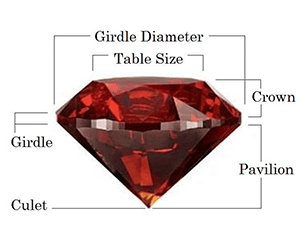 Carat Weight (Size)
Carat is the unit of measurement used for weighing a gemstone. Carat weight is one-fifth of a gram, which is 0.2 grams. One-fifth of a gram would be the weight of a paperclip. Carat should not be confused with karat (10K, 18K), which refers to the purity of gold. Nowadays, gemstones are weighed using an electronic digital scale. There are a variety of stones available in the market, and all these colored stones possess different densities (mass per unit amount). Two similar-sized, identical gemstones might differ in their weights.
Ring Type
One advantage of buying your engagement ring from an online jeweler is the expanded access you get to ring styles. Here we offer almost every ring style imaginable – and if we don't have a style you want, we can custom design a ring for you. To choose the perfect ring, consider what fits her lifestyle and personality best. In addition to your budget, her personal style and her daily activities are the main considerations that should guide your selection of a setting. Here are recommendations that match personality traits with various styles of engagement rings:
Setting Types
We offer a broad range of settings, but we'll help you narrow down the options by taking into account the style preferences, lifestyle, and personality of your partner.
Ring Sizing
Your engagement ring should fit easily — not very tight, yet not very free either. The ideal ring fits free enough to slide over your knuckle and tight enough that it can't tumble off your finger. To discover your ring size, you can utilize our internet ring sizer or demand a free plastic ring sizer. Keep reading for tips on the best way to gauge your finger measure and ensure that you buy a ring that fits perfectly.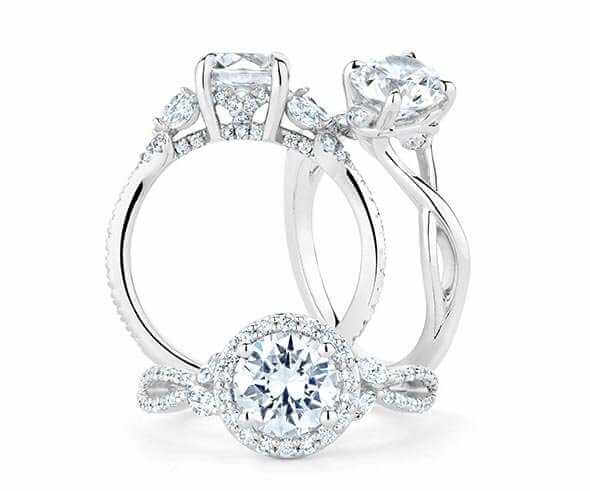 Tips for Finding Your Ring Size:
Measure your finger toward the day's end
Your finger size changes relying upon the climate and time of day. For best outcomes, measure your finger size toward the day's end when your fingers are warm. (Promptly in the morning, your fingers are cold and smaller
Measure a couple of times
Be sure to measure your finger size a few times to make sure your calculations are accurate.
Tips for Buying a Ring as a Surprise:
In the event that you don't have a clue about your better half's (or boyfriend's) ring size, ask her/his dear companions or relatives. Instruct them to keep it secretive with the goal that they don't ruin the surprise! Acquire his/her ring (from the right finger!) and use our plastic ring size guide to decide the ring's size.
How to Measure Ring Size
Wedding Ring Guide
There are many different styles of wedding rings to choose from, including plain gold or platinum rings, diamond rings, sapphire rings, and eternity rings.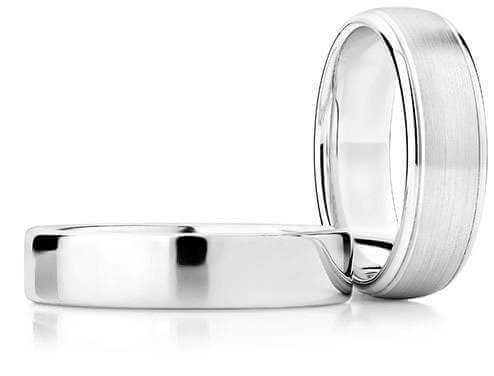 Men's Wedding Ring Styles
A man's wedding ring is an important expression of his love and commitment. Grooms have unprecedented options in wedding rings. The most popular styles for men include plain metal bands, or more distinctive and contemporary rings.
Shop Wedding Rings
Women's Wedding Ring Styles
A Woman's wedding ring is an important expression of her love and commitment. There are many different styles of wedding rings to choose from, including plain gold or platinum rings, diamond rings, sapphire rings, and eternity rings.
Shop Wedding Rings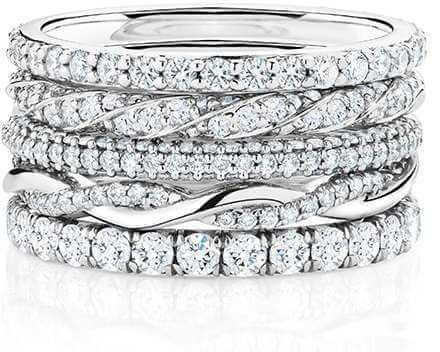 Engraving
For both brides and grooms, personalized engraving—typically on the inside of the band—is a sweet and sentimental way to add a special touch to wedding rings. You can choose to engrave with your monogram, wedding date, a special saying, or even a fingerprint. The length of the engraving depends on the ring size and type of ring.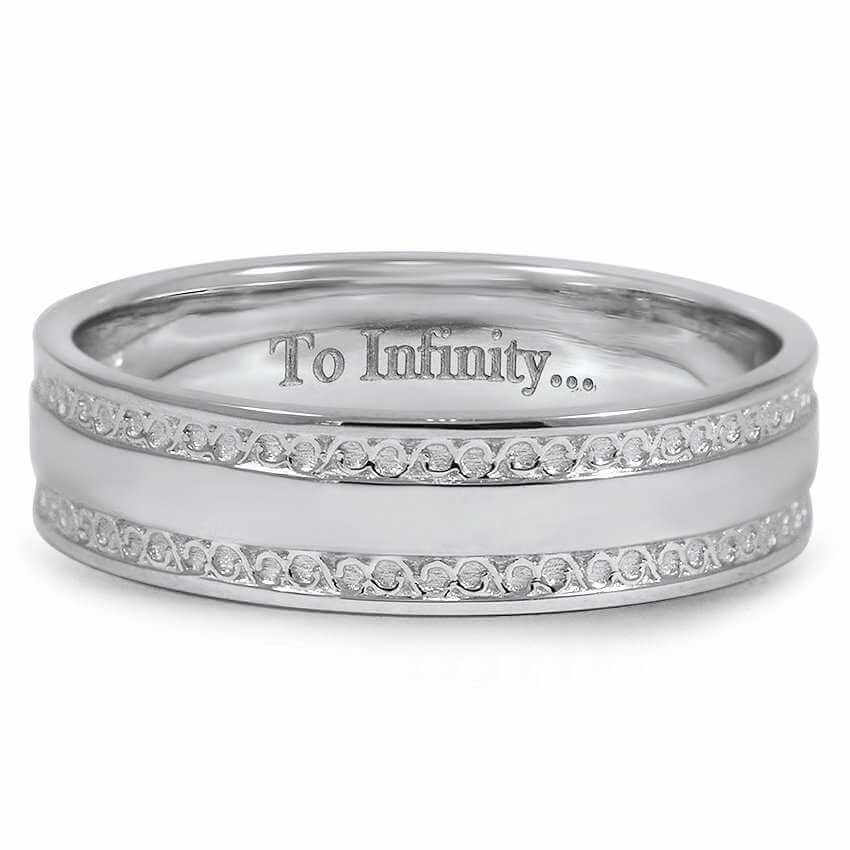 Engraving Ideas
Initials, Names, and Dates
Many couples love to include their initials and the date of their wedding on the inside, making this the simplest, most classic option. Popular combinations include: "AB + CD," "A + C 5/22/2014," "ILY 5.22.14," " ABC-DEF," and others along those lines. Instead of engraving your wedding date, you might choose to engrave the date you met, or the date of some other special relationship milestone. Or you might choose to engrave your beloved's first or middle name in the interior or your ring, and yours in his.
Saying and Quotes
Occasionally you will run across a quote that expresses how you feel perfectly. Sometimes the best engravings are simple expressions such as, "I do," "You and I," or "All my love." Depending on the size of your ring, you may be able to request a longer saying or quote, such as, "Who, being loved, is poor?" by Oscar Wilde or, "Love conquers all," by Virgil.
Shop Rings
Finding The Perfect Wedding Ring
Every bride has an idea of what ring she wants and, if possible, the ring that he'll be wearing too. If your man is hesitant about wearing a ring, then put aside your plans for matching bands. Though having rings that match can be a wonderful public expression of your love for each other, that shouldn't be a critical point. Many men find rings to be uncomfortable, so if your platinum round pave set diamond wedding ring doesn't come in an equivalent ring for him, don't fret - wear the ring you want and let him pick out the ring that he likes.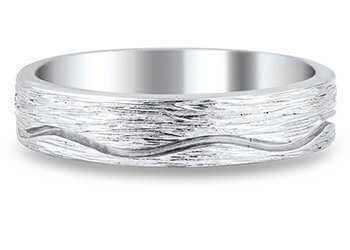 When Ordering Your Rings
On-line ring buying has grown in leaps and bounds because consumers have discovered that they can get the same rings through mail order that they can buy at the local jewelry store.
How to Measure Ring Size
Necklaces
The perfect necklace or pendant will add style to anything she wears. In addition to being a stylish gift, giving her a necklace offers you the chance to perform the classically romantic gesture of putting it around her neck for the first time. In general, a necklace is defined as slightly type of chain or length of valuable metal or gems. They are also available in pendant styles that feature a single diamond, gemstone, fine metal design, or pearl, generally suspended from a chain. A pearl strand is a measurement of closely threaded pearls.
Necklace Type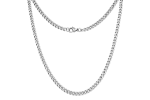 Metal Chains
Chains go with everything. A fine platinum chain in a choker length will add just a touch of luster.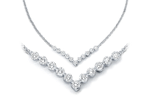 Necklaces
Necklaces come in a variety of styles including heavier chains, links, and braids. Some necklaces feature a fixed set of diamonds or gemstones, where others have stones that run their whole length.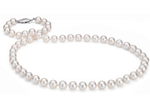 Pearl strands
Pearl strands are an important element to a woman's jewelry wardrobe. She can wear one with a dress to create a elegant look.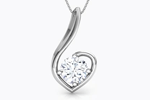 Solitaire Pendant
The simple design of a solitaire pendant allows all the devotion to focus on a stunning diamond, pearl, or gemstone. These timeless pieces can be worn with a dress or with denims.
Bracelets
A bracelet is one jewelry item she will see all the time, so she can appreciate it often. She also enjoys the feeling of it on her wrist reminding her of you.
Some bracelets are available in different lengths. So before you purchase, be sure to measure one of her other bracelets to be sure she doesn't need a special length.
Bracelets are usually worn on occasions when she isn't working with her hands. Even when not working, a bracelet's proximity to the hands causes it to get bumped and banged, so it must be very durable. Jewelry designers take this into account, so you can be sure the bracelet you choose will last.
Bracelet Types
Chains
This is the exemplary bracelet. You'll discover an assortment of chain structures, similar to the conventional round-interface rolo or wheat chain, in an assortment of metals like sterling silver, 18k gold, and platinum.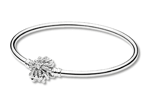 Bangle
A bangle bracelet can be worn for a basic look or can be joined with a few different bangles. Bangles draw the eye with metallic sparkle, and a few bangles clinking together make a wonderful sound.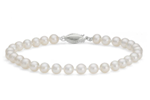 Pearl
A pearl bracelet is a traditional piece of jewelry. It adds a dressy touch to anything she wears, from pants to a party gown. Or on the other hand she can formalize the look with a coordinating pearl accessory and studs.
Earrings
Earrings make the ideal blessing since they are consistently the correct fit. The most essential gems closet piece, she may go out without a bracelet, however she's quite often wearing earrings.
Most earrings styles go with anything, adding style to anything she wears. The wide variety of earring types, sizes, and costs accessible makes it simple to find the ideal pair for a blessing. She'll remember you each time she wears them.
Earrings Types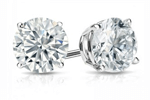 Studs
Since they're little, stud hoops are anything but difficult to wear. They go as effectively with a party dress as they do with pants. You'll discover an assortment of styles in Cultured Pearl Earrings, Diamond Earrings and Gemstone Earrings.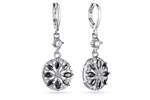 Drops
Drop earrings are made to dangle underneath their setting. Swaying with movement, they can include an exquisite touch. Pearl, precious stone, and gemstone drop studs are accessible in different settings.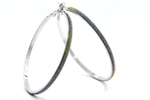 Hoops
Platinum, gold, or silver hoops give a female touch, and valuable metals go with anything. For included shimmer, pick a couple with diamonds.